ProFlash PC11 Lighted Fin Flashers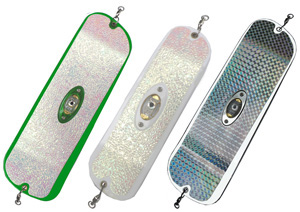 Following three years of testing and development, Pro-Troll has developed a lighted flasher series. The ProFlash PC11 lighted flasher features the patented kicker fin on the back for more flasher action, with the added advantage of a water activated flashing light!
These 11 inch flashers can be trolled as slow as one mile per hour and it still kicks and spins. The flasher is made of ABS plastic with Pro-Troll's stainless "Easy Spin" ball bearing swivels on both ends. Contains the Pro-Troll Electronic EChip for more strikes.